Ambassador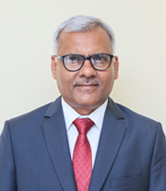 Resume of Mr. Pradip Kumar Yadav,
Ambassador of India to the Republic of Liberia
Mr. Pradip Kumar Yadav is an Indian Foreign Service Officer and joined the Ministry of External Affairs (MEA) in 1985. He has served in different capacities in South Yemen, Switzerland, the Philippines, Oman, Kazakhstan, Scotland [Edinburgh], Democratic Republic of Congo and the USA [San Francisco] and New Delhi and has handled various aspects of diplomatic work covering Administration, Political, Multilateral, Commercial and Economic, Information and Publicity, Capacity Building Training, Consular, Community Affairs, Emigration and Public Relations.
He was Charge d' Affaires a.i. from April, 2014 to November, 2015 in Embassy of India, Kinshasa [Democratic Republic of Congo with concurrent accreditation to Gabon, Republic of Congo and Central African Republic]. He was Head of Chancery and Hindi Officer in Consulate General of India, San Francisco from January, 2016 to June, 2019. Prior to assuming charge at Monrovia, Liberia, he was Director and Protector of Emigrants, Delhi.
Mr. Yadav was born in New Delhi. He is a graduate in Commerce from the University of Delhi. He has limited knowledge of Arabic and Russian languages besides being fluent in Hindi, English and Punjabi.
He loves music, cricket, travel and writes at leisure. He is married to Mrs. Archana Yadav and they have two sons.
He assumed charge as India's First Resident Ambassador to the Republic of Liberia on 8th August, 2021 and presented his Letter of Credence to H.E. Dr. George Manneh Weah, President of the Republic of Liberia on 26th November, 2021.
******